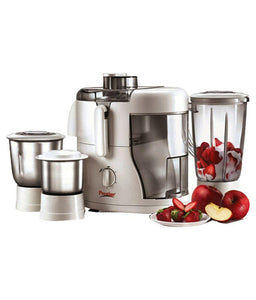 Making a tall glass of refreshing juice is now easier with the new Prestige CHAMP Juicer Mixer Grinder. it's specially designed stainless steel sieve not only extracts the maximum amount of juice but also separates the pulp from it. The juice flows out through the juice outlet and the pulp remains in the in-built pulp container, making the cleaning easy. What's more, the juicer also doubles up as a mixer grinder. With a powerful 550 watts motor and 3 speed control, grinding and juicing features, this multitasker is a must have for your kitchen!
This Juicer Mixer Grider comes with: i) 1 Liquidising jar with Lid ii) 1 Dry/Wet Grinding Jar with Lid iii) 1 Chutney Jar with Lid iv) Stainless Steel Sieve v) 1 Pulp Collector vi) Feeder Pusher vii) Spatula
DETACHABLE PULP COLLECTOR

The separated pulp accumulates in the detachable collector. So, you can continue juicing without any pauses.

EFFICIENT STAINLESS STEEL SIEVE

Featured with Stainless Steel Sieve, it lets you extract the maximum amount of juice and extracts pulp simultaneously. Now you can enjoy your favourite pulp free juice with Prestige Juicer Mixer Grinder.

JUICE OUTLET

It comes with inclined outlet ensuring uninterrupted juice flow, thus reducing wastages.

DOUBLE LOCK SYSTEM

Starts juicing only when it is completely locked. It ensures maximum safety.

3 SPEED CONTROL WITH WHIP

The WHIP control gives you better control over grinding/blending. When you are blending milkshakes, or you want to grind red chillies coarsely, you can use the WHIP setting as desired.

JUICER CUM MIXER GRINDER

This elegant Juicer can be converted into a mixer grinder through simple steps. Just unlock the Double lock system. Detach the removable pulp collector and sieve and firmly attach the dry or wet grinding jar, the juicer is now a Mixer grinder.